Clinton Cemetery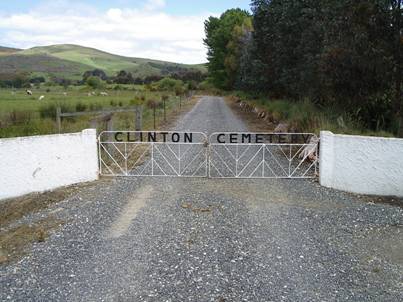 Clinton Cemetery Plan – Download Plan
With thanks to Jamie Shaw who designed the plan and Clutha District Council for their permission to use. This plan is in the Clinton Cemetery kiosk on site.
Location
The rural township of Clinton is situated on State Highway 1 about halfway between Dunedin and Invercargill and the junction with SH93 (Clinton to Mataura) is in the town. Situated near the mouth of the Kuriwao Gorge with Popotunoa Hill to the north and Kuriwao Peak to the south, the town is 34km from Balclutha and 42km from Gore.
The Clinton Cemetery is off SH1 just beyond the town on the Gore side and is surrounded by farmland, well fenced and maintained with a parking area by the gates into the main part. The Catholic section is presently separated from the rest of the cemetery by a paddock and only part of this section is fenced off, there being a grave within the paddock, clearly visible with yew trees growing at each corner. When visiting, please leave the roadside gates as you find them and close the cemetery gates behind you. The Clinton Lions Club have erected a kiosk with an index of names and plan of cemetery.
History
The Clinton Cemetery was, and still is, managed and maintained by a local trust. The earliest burial register dates from 1891 to 1901 and 1928 to 1932; the second register dates from 1909 to 1966 but there are gaps in the early part of this period; the third register, still in use, dates from 1967 to the present day. It is unclear what records were kept prior to these dates but whatever these were they appear to be no longer in existence. It is interesting to note that a single burial plot is called a 'room'.
There are 280 memorial stones in the right hand side (Presbyterian & Common Ground), 255 in the left hand side (Anglican and Lawn), and 17 in the Catholic section making a total of 522 headstones (including plaques, nameplates etc).
The earliest record in the cemetery is a headstone in the Common Ground for Mary, the wife of George Edwards, who died 5th July 1865 at the age of 37 years. The oldest person recorded is Lorna Althea Taylor who died in 2005 aged 103 years. Two other ladies attained over 100 years - Florence Isabel Taylor (102 years in 1997) and Helen Clarke (100 years in 1991). There are also a surprising number of people who died in their 90's. Common with all communities there were tragedies and many stories are contained in cemetery records and when examined, reveal much about life and the people in a community and are, at times, very moving for our transcribers working with these records.
As well as the records contained in these transcripts, an old Minute Book dated from June 1899 to Dec 1999 is held by the trustees. These minutes record the following names of trustees (alphabetical in decades:
1899-1909: Jas Alexander, F Andrews, Boyd, C Bruce, Coggar, Jas Garden, T Graham, Hamilton, Hammer, R J Irving, Richard Irving Jnr, R Luke, D A McLachlan, Mayson, J McIntosh, J R MacKenzie, McPhail, P McRorie, Nelson, Patterson, J B Ritchie, Thomson, D Tuffley
1910-1919: Jos Abernethy, J Bagrie, H R Bell, Hy Brown, R C Cairney, J B Calder, J G Clifford, C Ellis, J R Garden, R J Irving, R Irving Jnr, R Luke, Jas McIntosh, D A McLachlan, Peter McG Murray, P McRorie, Mark Morton, Wm Nelson, J B Ritchie, D B Wallace, W J Ward, Williamson, J Wilson
1920-1929: Balloch, Beck, R C Cairney, J B Calder, Jas G Clifford, J R Garden, A E Gladwin, Graham, Hay, R H A Jeff, Johnston, Leggett, McDonald, McKeown, McLachlan, McRorie, Meggitt, Miller, Wm Nelson, Newson, North, Pilling, W H Smith, G S Walker, W K Walker, D B Wallace, Williamson, J Wilson
1930-1939: J S Barlow, J Dickinson, J Evans, T Forrest, A E Gladwin, R H A Jeff, W A Leggett, G McKenzie, W McIndoe, Wm Nelson, W J Roberts, W H Smith, H E Steel, W Sutherland, H C Turner, G S Walker, W K Walker
1940-1949: J S Barlow, John Dickinson, J Evan, Wm Graham, S Hall, A T Harris, J McDonald, Wm McHardy, W McIndoe, E D O'Connor, H J Smith, Wm Todd, Geo Walker, R Whiteside, Due to the amalgamation of the Clinton Town Board with the Clutha County Council at 1 April 1947, commissioners of the town board who were also trustees for the cemetery automatically went out of office and trustees had to be appointed at a public meeting in July. Nominated were Robert Brown, William Brown, Adam T Harris, William J Roberts and Hector J Smith.
1950-1959: R Brown, Wm Brown, Clarke, A T Harris, C G McIndoe, John S Morrison, R Pannett, Robins, Simpson, H Smith, E R Talbot, Thomson
1960-1969: J S Barnett, F Batchelor, R D Black, Clarke, J S Cook, Ferguson, D Jenkins, J Kilpatrick, McIndoe, L McKenzie, J S Morrison, R D Pannett, J Simpson, R C Strachan, Thomsen, D Thomson, Turner
1970-1979: D Black, S Brock, W Bunbury D W Holden, D Jenkins, J Kilpatrick, L McKenzie, J S Morrison, R S Powley, R C Strachan, G H Turner
1980-1989: W Bunbury, J Mathieson, J Mitchell, Helen Pannett, R S Powley, G H Turner, P Watt,
1990-1999: M Anderson, W Bunbury, J Cochrane, N Cochrane, H Pannett, D Mackie, J Mitchell, J Morrison, C Pearce, R Powley, G Turner.
2000-2011: Derek Ayson, William Bunbury, Alistair Campbell, John Cochrane, Ailsa and David Mackie, Brent Mackie, John Jury (Sexton), Kath Marsh, Vic Moody, John Morrison, Colin Pearce, Margaret Peina, Drew Pennycook, Russell Powley, Ian Roy and Sean Williams.
About the Records
This cemetery is managed by Clinton Cemetery Trust.
There are no pre-1891 burial, plot or plan records for the cemetery. Only burials prior to that date that have headstones record any earlier names so there is a large gap in the records. If you have information that shows a burial in this cemetery and not shown in the database please contact us help.desk@balcluthagenealogy.org.nz
Researchers are encouraged to sight original sources and we offer images of headstones and graves and also register images (see below). As well as the advantage to researchers this removes the necessity of handling old and fragile records.
Photos
Photos are available on request for the following:
Graves – plot and stone views (on database)
Burial Register
Plot Purchase Register
Acknowledgements
Clinton Cemetery headstones were previously transcribed in 1983 by Balclutha Genealogical Society members, Roma Buchanan and the late Gladys Masters.
In 2009 members of the Balclutha Branch NZSG (Balclutha Genealogical Society) undertook the photographing and updating of transcriptions for headstones and burial records. Volunteers who worked on this project were Nola Anderson, Barbara Carruthers, Bev Whiteside, Margaret Peina, Reg Smith, Betty Sell, Rose Roxburgh, Doreen McKay, Rosa Harrison, Ruth Richardson, Hilary King, Noeline and Donald McLaren. We have thoroughly checked our transcriptions from original records and headstones. If errors still remain we apologise and would appreciate notification of anything to enhance the accuracy of this transcript, including extra information of interest.
Thank you to Ailsa and David Mackie, Clinton, for their assistance and allowing us to view and photograph the records.
8 Nov 2016
© Balclutha Branch NZSG (Balclutha Genealogical Society)