NEWSLETTER HIGHLIGHTS
2005
NOTE: These articles are contributed to our newsletter by individuals and do not necessarily represent branch advice and/or policy.
THE SOMERVILLE LOUNGE
Following mention of the Somerville Lounge in a newsletter some months ago, I received a phone call from a Dunedin Branch member who was wondering how it came to be called that. Good question I thought, being much too young to remember when it was built (ha, ha!!). Well I rang a local Somerville descendant and here's the answer.
The Somerville Lounge is named in recognition of the efforts of Mr John Ivan Gray (Gray) SOMERVILLE. Mr Somerville was the Clerk of the Works on the Committee formed to construct the Balclutha and District Memorial Hall and among other duties was responsible for organising and overseeing the body of volunteers who worked together on the building of the town hall at weekends. Some of the timber for the panelling in Somerville Lounge and elsewhere in the building was milled and donated from the Somerville property at Waitepeka.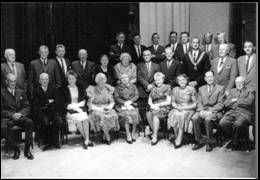 Balclutha and District Memorial Hall Committee 1962
From Left to Right
Back Row: W. Knox, D Watt, H Peggy, L Ayson, F Wood, A Johnstone, T McCristall
Middle Row: D Lattimore, W Knight, C Bissett, G O'Hara, Mrs Jenkins, Mrs Cooke, J Stephens, H Holgate,
R Pearson, G Barr, G McLeod
Front Row: Architect B Colbert, Mrs Pearson, Mrs Holgate, Mrs McGregor, Mrs Lattimore, Mrs Morgan, P Shand, Gray Sommerville
In 1848 the Somerville family of nine children along with their parents came to New Zealand aboard the 'Blundell'. The family of five sons and three daughters (another daughter had died before leaving Scotland) were born in the Midlothian parish of Cranstoun. They established the first flourmill in Dunedin and in 1854, the five brothers of the family who had settled at MacAndrew Bay, purchased land at Waitepeka. John and James settled in the area, and in time they bought out their brothers' share. Their land ran from that part of the property they named Chester Hill after their home in Scotland (now the Stivens' home farm) taking in all the land east of White Flat Road and into the township of Waitepeka. The Somerville brothers established a store at Waitepeka village, believed to be the first store south of the Clutha River, along with a flour mill which opened in 1863. Their first mill at Chester Hill had previously been destroyed by fire. The Waitepeka mill closed in 1902 owing to a portion of the bank, which formed the lake for the mill, giving way. The evidence of this is still visible today.
Today the Waitepeka store, facing the Waitepeka road, still exists having closed in 1964. It is now a private home. Across the little road which is signposted as a Heritage Site called 'Somerville Park' is the Waitepeka Hall and was once the Puerua Hall having been moved to the present site. Of the cluster of Somerville buildings, three houses remain, one of which is the home of a descendant. Another is no longer lived in and the third, once the home of John and Margaret Somerville is now in ruins. Also remaining is 'The Barn' which was the original store and Post Office. When the 'new' store opened, 'The Barn' was used as the Waitepeka Hall seeing school concerts, flower shows, weddings and many other gatherings. In later years it was used for playing badminton, being the 'Home' of the Waitepeka Badminton Club. Before the Town Hall mentioned above was built, representative matches were played there. Memories inlude having to toss the coin out in the supper room as the coins would fall down the cracks in the floor; the pot belly stove out the back kept everyone toasty warm when not playing; the walls were painted dark green which was excellent for seeing the shuttle.
Further along, across the little road is a building which was originally the Somerville Transport building which was built in the 1920's. In the early 1950's Mr Bob Leng ran a garage in part of this building. It was also used as a depot for South Otago Transport which grew out of Somerville Transport. Prior to being built, this was the mill site. At the end of the existing building there is still a piece of the porridge kiln and water race. After the 1902 closure, the mill was moved by traction engine to the 'Coombehay' property at Waronui (around the coast of the Milton area).
This interesting historical property is listed on the 'Heritage Trail' brochure.
By Noeline (Sep 2005)
NOTE: These articles are contributed to our newsletter by individuals and do not necessarily represent branch advice and/or policy.
This recent exchange filled my fellow genealogy mailing listers with wonder. I thought it worth sharing with you. Some details have been removed.
"Hello All
I wonder if someone might be able to help me out or suggest how I might find out the surname of people living at the following address in 1940-1942 time frame - probably lived at this address for some time. It is: The Haven, Woodland Road, Tunbridge Wells
"The first names were Frank and Elizabeth, and I'm hoping if I can determine their surname I can do some further research on this family. I also have another family living at 144 Powder Mill Road in Tunbridge Wells in 1948 - again no idea of surname. I have got these addresses from old letters, but they are only signed with first names. Joy in Canada"
This reply soon came back
"Hi listers
I am in shock because I too have letters written from 144 Powder Mill Road, Tunbridge Wells...mine seem to be dated 1958-1962+ but I have others written from 42 Westwood, Rusthall dating 1920s and 1930s. My family were the COOKS who ran a heating oil business on Grosvenor Road, lived at Dynevor in early 1900. I also have early postcards of Tunbridge Wells, written by a young Gordon Cook, and he notes on the postcard that his lady love works in a dressmaker shop on Tunbridge Wells High Street. Gordon Cook and his wife May___? came to Canada.
"Looking forward to Joy's answers ..too much coincidence? Liz of Canada"
Then this back from Joy:
"Hi: I am in shock too - this is so exciting - May Cook is the person who has written my letters. Liz, I will write off list. Joy in Canada."
Later the enthralled list members were updated with this message -
"I thought I should let you list folks know about a wonderful posting success! It turns out that Joy is related to the letter-writer and we are related to the letter-writer's husband...and Joy and I both live in Canada, rather far away from Tunbridge Wells, and we did not know about each other previous to her posting!
"The resident at Powder Mill Lane, May CARTER COOK, had been writing to her maternal cousins in Canada and also to the cousins of her deceased husband (Gordon COOK), in Saskatchewan, Canada through the 1940s and 1950s. I 'inherited' these letters and photos when a 94 year old cousin died recently...they had been preserved in a trunk of her mother's belongings. There were also letters written from 1915-1935 from May Cook's mother-in-law, Martha and her husband Willie COOK. They had come to Tunbridge Wells about 1905 to help run their son's oil and grocery business at Upper Grosvenor Road. Martha and Willie lived at 42 Westwood at Rusthall. May Cook's son, Stanley, was also in heating and cooling business at Tunbridge Wells. Stanley had been born in Canada when May and Gordon went farming on the Prairies for about 5 brief years, returning to Tunbridge Wells about 1920. It has been confirmed also (thanks to the list) that a Frank CARTER lived at The Haven, Woodland road in 1940s.
"Thanks again to the help of all you folks at the KENT list...Liz"
Warms the heart doesn't it?
By Noeline (Oct 2006)
NOTE: These articles are contributed to our newsletter by individuals and do not necessarily represent branch advice and/or policy.

Click below to return to Topic Index or surname index for 'Newsletter Highlights'
Last updated 12 Mar 2010