NEWSLETTER HIGHLIGHTS
2004
NOTE: These articles are contributed to our newsletter by individuals and do not necessarily represent branch advice and/or policy.
by Noeline
I sit writing this, the fire is crackling in the grate as the slanting rain lashes against the window, and I think of a little girl. On this day 108 years ago, little Mary Agnes was cold and alone, lost in the heavy bush beyond her home. Over the past few months, I have thought a lot of this little girl.
The journey began in April when I was given an email from Joyce at the library. The query came from Kris from Australia.
"I was hoping that you may be able to help me with some history in the Catlins area. I'm researching the Ewart family who lived in Owaka in the 1890's. Two of the Ewart boys, William and James went of to the Boer War in 1901 and I was wondering if they belonged to the Rifle Brigade before they enlisted. Another young Ewart child was lost in the bush and died, date unknown. There was a burial of a James Ewart in the Owaka cemetery on 31 March 1897, no age. Was also wondering if there was a mention in the community newspaper of this death around that date. Is there any recorded information on the Catlins Rifle Brigade, not too sure of the years, I think late 1890's to approx. 1920's at the latest."
I forwarded a copy on to the Owaka Museum to help with the Catlins Rifle Brigade, and as Isobel, our research officer was busy moving house, and the Catlins my 'home patch', I thought I would see if I could help. Emails came and went and further information came from Kris:
"The family also had another daughter who died after being badly burned when her night gown caught fire, they were living in Owaka at the time. She spent 6 months in hospital before she died on Christmas day 1912. I have since found on the NZ BDM index, and with help from a 95 year old descendant, that the little child who was lost in the bush was a girl - Mary Agnes EWART, known as Agnes. The family was living in Cannibal Bay. Oral history - her body wasn't found for 6 weeks. Her parents were Johanna & James Ewart. On the NZ BDM Index the death of James Ewart was just four entries after Mary Agnes."
Cannibal Bay - this really was my home patch. My great grandparents farmed along the top of the hills on the northern seaward side of Tunnel Hill and standing on the upper south side of the farm you can look down upon Cannibal Bay and the surrounding countryside. I contacted Kris and shared this with her and told her of a photo I recalled in our old photos of a family on Cannibal Bay Road. Now that would be something if it was, by chance, her EWART family. She replied
"I don't have any family photos nor have I been able to locate any so am unsure what the family looks like. What is Cannibal Bay like?"
I found the photo – not her family and I emailed, describing the beach and surrounding land and speculating on what it would have been like over 100 years ago. It needed little imagination to imagine being lost in the heavy bush in a Catlins' winter. Then this came;
"I have just received copies of Mary Agnes EWART's death certificate.
She was lost and perished in the bush approx 16th July 1896, aged 5yr & 10 months and buried at Owaka Cemetery, 26th August 1896.
Mary known as Agnes was born 14th September 1890, Owaka, father James Emery EWART & mother Johanna nee RULE both from Scotland. The two daughters are buried in different cemeteries: Mary Agnes (lost in bush) is buried in Owaka Cemetery and Johanna Agnes (burnt in fire) is buried in Andersons Bay Cemetery along with her mother and brother William. They all died a few weeks apart."
I now had dates, but it was the weekend and the search of the Clutha Leader microfilm would have to wait. But my imagination had been fired and on Sunday we took a drive to Owaka and visited the cemetery, camera in hand in case there was a headstone to photograph and send over to Kris. No such luck – but luck was with us as J. T. who lives nearby was walking his dog. We passed the time of day and on telling him our mission, he invited us up to have a look at the burial register.
The old register began in 1899 and although there were some entries for 1895-8, it was clear the previous register had held the details of Mary Agnes' burial. That register has never been found so we couldn't even identify her plot for Kris. However, there on the first page was an entry for a James EWART, obviously the one that Kris had described. But if he was buried there on 31 March 1897, why was there no BDM Death Index entry for 1897?
No further ahead, we carried on, and stopping for an ice cream, I browsed through a couple of local books I had brought with me. In a chapter on Romareka School (Cannibal Bay) which was only open for a few years, a photo caught my eye - 'Memorabilia of Miss A. Forsyth'. It showed, along with a school photo and a pass card, a memoriam card with 'Mary Agnes Ewart'. This was very exciting! I recognised the name of the photo donor and after checking with Kris, I wrote to Mrs M. She may know something of the story and even if the memoriam card still exists….
Monday, and time to tackle the microfilm. That night I emailed Kris:
"I'm just back from Balclutha where I have read the Clutha Leader films. I was unable to find any death or funeral notices for both EWART children, however, you will be very pleased with what I have found and printed out for you. On 24 July 1896, the Owaka correspondent reported in depth on the disappearance of little Mary Agnes; 28 August 1896 is a report on the inquest following the finding of her body; 31 December 1912 is a brief report on the death of Annie EWART. I searched around the date of Annie's accident, but found no report."
In the meantime this came from Kris:
"I sent away for a copy of James Ewart's death cert (4 entries after Mary's in the NZ BDM Index) thinking that it was the same person that was buried at Owaka....this turned out to be a totally different family...lived in Cromwell, buried in Dunedin...born in England. So that now puts me back to square one...Who was James Ewart buried in March 1897 in the Owaka cemetery ?
Back to the library but the Clutha Leader revealed nothing of the death of a James Ewart in March 1897. Nor did the BDM Index – I just had to check for myself! That a dead end, what now? Perhaps some of Miss A Forsyth's possessions were donated to the Owaka Museum. I rang three museum ladies – no one home then the fourth, Rose, answered her phone. She told me that no, there were none of Miss Forsyth's bits and pieces, but there was a Ewart photo album that had been donated years ago! Mr A. Boyne had been cleaning out an old shed at Cannibal Bay and found it. I got very excited – could Kris be so lucky?
Excited emails pinged back and forth and last Thursday I was on a mission! 1. To ascertain if the album was the right family, and 2. To prove a theory about the James Ewart record.
First stop was J T's again. My theory was that maybe the entry in the register was for the plot purchased for Mary Agnes' burial and carried over into the new register as being outstanding. That theory was inconclusive – it did appear to be a burial of a James Ewart. We walked down to the cemetery after consulting an old map and located the plot. I fancied that if the hollow was short it would suggest that Mary Agnes was there, if full length, well it was James. Again inconclusive. Mmmmm – maybe both??.....
Next stop, the Museum. Rose had photocopied the album. My hand shook, the first page identified it as belonging to Johanna J Ewart. The next page listed all the children and dates of birth. There she was, the seventh child.
Mary Agnes Ewart, born September 14th 1890
then below that
Mary Agnes Ewart
Lost in the Bush at
Cannibal Bay – Catlins River
On July 15th. Found August 23rd 1896
Aged 5 years and 10 months
I gulped and turned the page. Page after page of beautiful photos, many named. Wow!...
I had done all I could. It was Saturday and I typed up a letter to send with the photos, the print outs of the Clutha Leader and many other bits and pieces of information that I had discovered on the journey. A bit tired, I took a break and went down to the mailbox. A letter was there. From Mrs M. I ripped it open …….. "I was brought up on the Ewart tragedy – i.e. you must not go in the bush and get lost like the Ewart girl. When this happened the whole area was bush. At that time quite a few folk lived at Cannibal Bay and Annie Forsyth often talked of the little girl, as did Peter Laughton who was in the party that found Mary. She was thought to have wandered by following the creek. She had a wee bucket with a lot of wee pebbles in it, this was in her hand. She had obviously followed the creek to the top of the hill and gone over to the Otekura side……"
From the pages of the album, a little girl looks at me. She is seated on a fur draped backless sofa, her white pinafore with the skirt arranged in a circle. Little hands resting in her lap, one cupped inside the other, back of hand in palm, fingers together - awkward, but natural. Slightly wayward mid length hair frames a sweet face with a little smile, waiting for the photographic sitting to be over. Looking up a little, over the right shoulder of the photographer. Is this Mary Agnes? I like to think so.
So who is buried in Plot 36, Owaka Cemetery. Is it Mary Agnes? Is it her father James? Are they both resting together? My mind buzzes with where to go to find the answers. But that is for Kris to discover. I have done all I can. I am grateful for the opportunity to help research and learn a little of this family, neighbours of my family, a long time ago.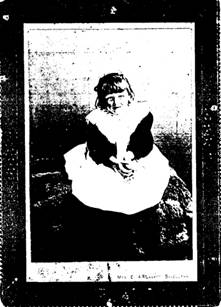 Is This Mary Agnes?
© N McLaren
15 July 2004
July 2004
NOTE: These articles are contributed to our newsletter by individuals and do not necessarily represent branch advice and/or policy.
by Isobel
When the request for info on three Smith brothers and one sister who came to NZ on the "Larkin" and settled in the Inchclutha-Stirling area in 1849 was read at our February meeting, I and others giggled.
Firstly, I read all the written material in our library (the Balclutha Cemetery, McBride's, The Intents etc). I read my own books including booklets written on the Stirling Presbyterian Church and the Stirling Anglican Church for celebrations over the years. These cover the years that both sets of my grandparents lived in Stirling. The name Smith is very common in the area. A builder, W T Smith regularly shifted his family between Kaitangata and Stirling as work necessitated bringing his family of eight children to the school. Also there was a teacher based at the Stirling school whose surname was Smith and he taught there for fifteen years.
Dianna, of Oxford, England who sent in the query, had done some good background study and had compiled a list giving three generations which I appreciated over the course of this research. The Smith sister married a son of the original Archibald Anderson so I obtained the Anderson tree and photocopied it – this gave me her three generations.
I read the Stirling School rolls at least three times as I learnt the married names of the daughters. I discovered one Smith lived at Stoney Creek so I read the Balclutha School rolls, only to discover some Smiths and lots of Andersons also attended Balclutha School. One Smith of the second generation, I never found at Stirling, but discovered he went to Otago Boys High School in 1875. So I read the OBHS roll which is in our library. Later on I discovered a son-in-law who attended OBHS (approx. 1914) and had an incredible record both academically and sporting. One day I went through to the McNab Library to look up obituaries and death notices for the first generation with very little success. They simply didn't list the children's names, even the spouse's names were sometimes not mentioned. Then I switched to looking up marriages for the daughters starting about 1919 and going for about 5 years. Most of these names found proved to be correct – except for a Margaret Smith. Five Margaret Smiths married in 4 years so I gave up on her! And there were two Ada Alice Smiths who got married in two years!
I found the Clutha Leader extracts interesting as I could relate to the place names used, e.g. Mt Wallace, The Hermitage and Raumati. Then I returned to the Intents. On finding one Smith daughter had married a Peter Ayson Low, I looked up the Ayson tree and found her children and grandchildren there. This then had me reading a booklet written around 1960 by Charlie Richardson when Stirling School held a reunion. Charlie was Stirling born and bred and had written about the things and people he knew during his childhood (but using nicknames or initials). One was a tale about the grocer, P A Low, and his neighbour the butcher. The grocer realized over many months that the butcher was coming into the shop daily, having a chat and leaving, taking a copy of the daily paper with him, but never paying for it. Both were very good friends but the grocer felt the paper should be getting paid for. What would he do about this? Eventually he wrote up a bill for one year's supply of newspapers and it came to 2 pounds 10 shillings. He went next door and left it on the butcher's counter, all along saying nothing. Next day as usual in came the butcher and they chatted as though nothing was amiss. The butcher duly left, taking with him the daily paper but leaving an envelope behind. The grocer opened it expecting to find money, but it was an account for one year's feeding of dogs. The grocer had quite a lot of greyhounds and for years, the butcher had been giving all his scraps to these greyhounds which the grocer was well aware of. That was the end of the matter and it was never discussed again. Charlie Richardson's older brother worked in the grocery and this was probably the source of this story. I then discovered another daughter married a Logie of Stirling. About this time a half page picture of Stirling showing the top half of Inch Clutha appeared in the Otago Daily Times. I was able to mark 17 places of interest where Smith or Anderson family attended school, the two churches, the area of the homes, and the dairy factory. I came to the research night where I learnt to use the microfilm reader and printer and found about five obituaries from the Clutha Leaders.
Brian Pringle brought along a copy of 'The Inch' to a meeting for me and also told me he was connected to this family and could give me their names and address. He thought that Dianna should go and see them as Mrs Logie knew a lot about this Smith branch. I was getting a copy of 'The Inch' as the Smith and Anderson family names cropped up throughout the book so often that it was going to be impossible to copy it out.
At this meeting I got Noeline to email Dianna in England as I realized I had done 25 hours plus I had 172 pages for her! And I just knew she needed her own copy of 'The Inch'. Diana had replied and she was to be in NZ in April then in Dunedin after Anzac weekend. April came and she visited me in Waihola and went through my 172 pages, page by page. I had to apologize as I had not tried to write up a tree for her – I simply gave her a heap of pages. My research from the school rolls and the intents were all copied out and written up in a six page letter. I suggested she visit the Early Settlers to see if the Smith brothers had their portraits there and also the Hocken to see if the McKenzie's had children who may have gone to the Matau school which is down the Kaitangata end of Inch Clutha. By then I also had the Logie names and addresses for her to visit.
Dianna then left to tour Balclutha and Stirling. When she rang me before leaving New Zealand, she was ¾ way through 'The Inch' and very pleased with the book's contents. Her visit to the Logie's was very successful and many gaps had been filled in on the family tree. It seems that Mrs Logie got the job of cleaning out an attic where she found lots of detail about the Smith family. By now Dianna had found out that there were no McKenzie children. Dianna will be writing up the tree and will send me a copy.
What were my 172 pages all about and where did I get them from? Except for the intents and school rolls which I copied by hand, it all came from the booklets of Stirling, 'Faith and Toil', 'Stepping Out', 'Reminiscences of the Early Settlers of Dunedin and South Otago', 'Pioneering in South Otago', 'McBride's Extract Bruce Herald' (for McKenzie). The story of Archibald Anderson was from the series written in 'The Advance Guard', an article written about redesigning the Balmoral kitchen by the Horders and two pages from Heather Maxwell's book on old homes in South Otago which showed the Smith home at the Bush and etc, etc. I literally copied anything that pertained to the Smith and Anderson family.
At the June meeting I brought a cheque for $125 – a donation for the group for my research!! If there is a moral to be found it would be this. Researching Smiths? Give it a go as you may well be rewarded.
(Jun 2004)
NOTE: These articles are contributed to our newsletter by individuals and do not necessarily represent branch advice and/or policy.

Click below to return to Topic Index or surname index for 'Newsletter Highlights'